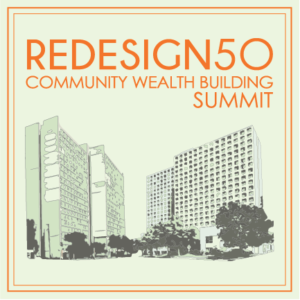 September 20th, 10AM-5PM
MORNING (10AM-12:30PM)
Check-In: 10am
Breakout Sessions: 10:30-11:15 and 11:50-12:35
The Multi-Site Breakout Sessions include concurrent panels, workshops and tours that use Redesign's projects as jumping off points for discussion of central themes in today's landscape. All sessions will run twice unless otherwise specified. Session Descriptions:
Economic Development & Envisioning Commercial Corridors
The Cooperage, 2304 Snelling Avenue
What does it take to transform a commercial corridor? What resources are available to support entrepreneurs and development that represents community values? Rebecca Parrell, City of Minneapolis Business Development; Eddie Landenberger, Twin Cities Land Bank and former Redesign Project Manager; and Conrado Badilla, business owner, share their experience with Sonora Grill, a catalytic redevelopment at 3300 East Lake Street, and other transformational projects.
The Creative Economy: Making Space for Art
Touchstone Mental Health, 2312 Snelling Avenue
How do we create environments that support the needs of artists and creatives in growing cities? More importantly, how can we serve these needs without sacrificing safety, accessibility, and affordability? Chris Webley of New Rules, Meena Mangalvedhekar of the Creative Enterprise Zone, and Kelly Nezworski of Foci MN Center for Glass Arts share models for developing space for artist communities and members of the creative economy.
Community Control of Affordable Housing
Seward Towers West Advantage Services, 901 South 9th Street
The Seward Towers provide 640 units of affordable housing to individuals and families with Section 8 vouchers. The Towers are uniquely governed by a board of directors comprised of tenants, representatives from the Seward Neighborhood Group, CommonBond, and Redesign. Diann Anders of Seward Towers Corporation, Abdi Ali, and Tariku Belay, both Seward Towers West residents and board members, share their experience with this one of a kind community ownership model, and explore how the governing structure impacts the Seward community socially, financially and materially.
Walkable Neighborhoods & Public Partnerships
Merwyn Triangle Park, 26th Ave S & E Franklin Avenue
How can infrastructure advocacy be used as a tool to mend historic injustices like highway placement? Reconnecting Neighborhoods is a community-initiated process to plan improvements to the crossings of Interstate 94 between Seward and the West Bank in Minneapolis. Bob Byers of Hennepin County Public Works, and Gloria Jeff of the Minnesota Department of Transportation discuss effective cross-sector partnerships and equitable engagement.
(10:30 Only) Growing the Generative Economy with New Markets Tax Credits
Five Square, 2525 E Franklin Avenue
Five Square (2525 East Franklin) was redeveloped by Redesign in 2017. Thanks to New Markets Tax Credits, the project transformed a previously underutilized and disinvested three-story building, adding fire safety systems, ADA compliant access, and over 40 jobs to Franklin Avenue! But what the heck are New Market Tax Credits? Mary Stoick of Sunrise Banks, David Wellington of Wellington Management, Faysal Osman of Nomadic Oasis, and Renee Spillum of Redesign explain practical finance tools and the community benefits of developments like Five Square on Franklin Avenue. (This session will only occur at 10:30am.)
(11:45 Only) Redesign's Origins: Community Developers Confront Urban Renewal
Boneshaker Books, 2002 23rd Avenue S
The 1960s urban renewal era brought sweeping change to neighborhoods across the Twin Cities. When the City of Minneapolis proposed to demolish the working class homes of Milwaukee Avenue, the Seward community envisioned a different future for their neighborhood. Bob Roscoe, Lola Berg, and others recall the grassroots organizing that eventually led to a community development corporation: Redesign, Inc. (This session will take place at 11:50am only.)
---
Lunch: 12:35-1:30

EARLY AFTERNOON: Mastermind Sessions- Planning for Action (1:45-3:15PM)
2213 Snelling Avenue, MPLS MN 55404
Intimate, Neighborhood-Led Mastermind Sessions* give community-based organizations and leaders a forum to apply ideas from morning workshops and receive project consulting from development professionals, city staff, architects, and artists. Individual tables will work with organization leaders on the following questions and issues:
How can Frogtown Neighborhood Association and Victoria Theater get the envisioned redevelopment across the finish line?
Whittier Alliance: How can we maximize our partnership with a new apartment building that is renting us an office and allowing us access to the building's community room?
Creative Enterprise Zone: What can we do to intervene when buildings of creative businesses and artists are at risk of sale and conversion?
Hamline Midway Coalition: How can we launch our community investment cooperative to support a stable, equitable and vital North Snelling Avenue?
Stevens Square: What is the role and business model of a neighborhood association post (Neighborhood Revitalization Program (NRP)?
Urban Homeworks: What can and should be built on a vacant lot on a major commercial corridor in a lower income community?
Corcoran Neighborhood Organization: How can we get the long-vacant publicly owned commercial space in our neighborhood occupied by uses that meet our community's needs?
*Mastermind Sessions are a peer-to-peer mentoring concept used to help participants brainstorm solutions with input and advice from other group members.
LATE-AFTERNOON (3:30-5PM)
2213 Snelling Avenue, MPLS MN 55404
National keynote speaker, Pete Saunders, shares his 20+ years of experience working in planning, economic development, and community development in the in the public, private and non-profit sectors of Chicago. Pete's research and writing explores a wide range of topics from defining black urbanism to what works for low-income urban communities.
PETE SAUNDERS BIO
Pete Saunders is a Chicago-based writer whose work centers on urbanism trends and developments in America's vast middle, particularly as it impacts its Rust Belt cities. Pete is the editor/publisher of the Corner Side Yard, an urbanist blog that focuses on a variety of issues facing cities today. Pete is also an urban affairs contributor to Forbes Magazine's online platform, and an Urban Notebook columnist for Governing Magazine. Pete's writings have been published in traditional media outlets such as the Detroit Free Press, Crain's Chicago Business and the (London) Guardian, and online at Huffington Post, New Geography, Planetizen, Rust Wire and the Urbanophile. His coverage of the widely-publicized Detroit municipal bankruptcy was featured in Encyclopaedia Britannica's 2014 Book of the Year.
Pete is also the community and economic development director for Richton Park, IL, a suburb south of Chicago. He has more than twenty years' experience in planning, economic development, and community development, with stops in the public, private and non-profit sectors. Pete served in various senior planning positions with the City of Chicago, the City of Joliet, and the Chicago Metropolitan Agency for Planning (CMAP), and has also served as a planning and economic development consultant. His diverse experience has provided him with a unique, cross-spectrum perspective on urban development.
Pete was born in and spent his high school years in Detroit, attended Indiana University in Bloomington where he earned a bachelor's degree in urban and regional planning, and moved to Chicago upon graduation. He obtained his Master's in Urban Planning and Policy from the University of Illinois-Chicago and remains in the Chicago area to this day.
---
EVENING (5-10PM)
The Redesign50 Community Celebration will conclude the day of events with a neighborhood block party with food trucks, live performances, and interactive public art. No registration is required.
Our deepest thanks to event sponsors Sunrise Banks and McKnight Foundation, and to the City of Minneapolis Great Streets Program.