Business Recruitment
Project Management
Real Estate Services
Redevelopment of Obsolete Building
The Seward Community Co-op grocery store has been a fixture on Franklin Avenue since 1972. Redesign first assisted the Co-op in expanding in the building that is now Welna Hardware, then in 1998 in building a new store at 2111 East Franklin. By 2005, the Co-op had outgrown the store and was in dire need of a new home. Redesign acquired the vacant and abandoned former Riverside Market site at 2823 East Franklin Avenue and began work with the Co-op on redevelopment.
Redesign followed an extensive community engagement process plan for redevelopment. A plan emerged that dedicated the entire site to Seward Co-op and included the acquisition of additional blighted property. The project doubled the size of the Co-op to over 25,000 square feet by re-using the existing building and constructing a 6,600 square foot addition and a 6,000 square foot second floor for offices and education. The project also included re-configuring alley access and a stormwater demonstration project with funding from the Mississippi Watershed Management Organization that included a stormwater catchment system and rain garden. The project is LEED Gold certified.
A citizen-based committee of the Seward Neighborhood Group, the Riverside Market Task Force, worked with Redesign and the Co-op to determine a vision for the site. The expansion brought 50 new jobs to the community and has been a resounding success in offering local, organic, sustainably grown and fairly traded products to the neighborhood.
Location: 2823 East Franklin Avenue
Developer: Seward Redesign
Contractor: Watson Forsberg
Project Scale: 25,600 square feet, $8.3 million
Timeline:
Purchase – March 2006
Construction Closing – December 2007
Completion – January 2009
Financing: Wells Fargo Mortgage – $5,200,000
New Market Tax Credits – $2,430,000
City of Minneapolis Loans – $375,000
Hennepin County ERF – $272,000
Co-op Creamery Neighborhood Café
Seward has a long history of supporting cooperative enterprises. The Franklin Creamery Building at 26th and Franklin is a historically important landmark for co-ops, local food, and the food networks they create. Built in the 1920s as a dairy production plant, the building was originally home to the Franklin Co-op Creamery Association, a milk and delivery co-op that produced 80 percent of the Twin Cities' milk supply in its heyday.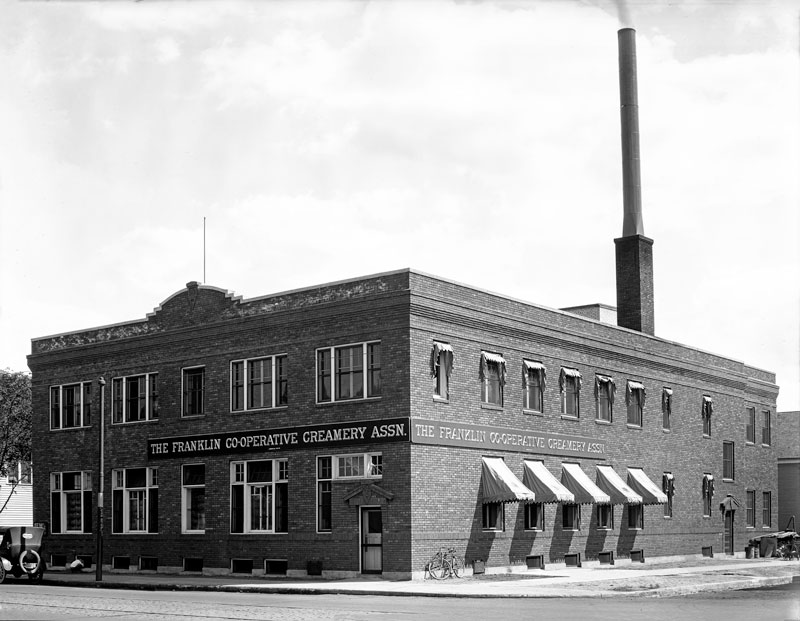 In 2015, a longtime office tenant decided to move out of the building. The property had suffered from many years of disinvestment but the building owners were neither interested in investing further in the property or in selling. Redesign stepped in to recruit a user who would contribute to the street life of Franklin and also invest in renovation. Redesign was able to structure a transaction that provided a future option to acquire the property at a fixed price that would permit a tenant to justify the significant investment the property required. After some discussion, the Seward Coop decided that the building would meet their needs for a new commissary kitchen on the ground floor as well as their need for office space on the second floor. Redesign provided project management services to the Co-op through the leasing, design and construction phases, including a new elevator core and entrance on Franklin Avenue and a café to enliven the storefront.
Redesign's involvement in the project included brokerage services, design, permit and zoning technical assistance, and project management services. This project is an example of Redesign's commitment to work to match buildings with businesses who are able to feasibly make needed investments, keeping the physical assets of our historic buildings active and in good shape for decades to come. Without Redesign's involvement, this building would have continued to be non-handicapped accessible and closed to the public.