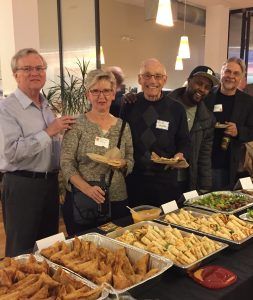 Meet the Redesign Board
Redesign's volunteer Board of Directors is a vital part of our success. All of our board members live or work in the Seward and Longfellow communities. They bring to the organization many years of experience in community development, affordable housing, public service, urban planning, finance and lending, education, design, construction, neighborhood organizing, small business ownership, transit oriented development, and nonprofit administration.
Carol is an administrator and faculty member at the University of Minnesota. Carol moved to Seward in 1976, and was one of the first buyers of restored homes in the Milwaukee Avenue historic district. Carol has served on the Seward Redesign board since 1998 and was board President from 2012-2016. She also serves on the Board of Directors for MplsAchieve, a non-profit organization that supports the Minneapolis Public Schools.
Andy Hestness

Vice President - Development
Andy is Principal Project Manager with the City of St Paul's Department of Planning and Economic Development, working with business development and property sales. He has a long history with the Franklin Avenue corridor, having worked for both the Native American Community Development Institute (NACDI) and Redesign on the Franklin LRT Station area development and other community projects. Andy has a background in architecture, real estate, construction management and community development.
Tadd is a Vice President and Credit Manager/Team Lead at Wells Fargo in the SBA Lending Division. He joined Wells Fargo in 1990 and received his degree in Finance from the University of St. Thomas (1993). Tadd also secured his MBA in Finance and Strategic Management from the Carlson School at the University of Minnesota in 1996. Tadd's work at Wells Fargo focuses on small business loans, including underwriting financing and interpreting financial statements for a wide variety of industry types, as well as managing construction loans. Tadd has previously volunteered with Nokomis Healthy Seniors, MN Red Ribbon Ride, Open Arms of MN, Habitat for Humanity and Feed My Starving Children. Tadd moved to Seward in 1998 and joined the Redesign Development Committee in June of 2012.
Eddie is a Vice President and Real Estate Broker at Land Bank Twin Cities, where he manages strategic acquisitions and acquisition loan programs. He identifies and purchases commercial real estate to create economic and community development opportunities for non-profit and private developers. Eddie's career is full of development and project management experiences as a Civil Engineer. Eddie is also a small business owner and Principal at Assembly MN, a commercial real estate firm.  He was Senior Project Manager at Redesign from 2008 to 2014.
Sheldon's career has been eclectic. Sheldon recently retired from providing consulting services to nonprofit organizations and foundations on project management, program design, and technology. Sheldon was a founder of a community bike center with the aim of getting a more diverse group of people biking. His eclectic background also includes working on energy and environmental policy in Minnesota government and engineering design in the building industry. Sheldon has served as Chair of the Seward Neighborhood Group, the Twin Cities Media Alliance and the Minneapolis Telecommunications Network. He has also served on the Minneapolis Planning Commission, Minneapolis Board of Estimate and Taxation, the Minneapolis Library Board, and the Alliance for Nonprofit Management. Sheldon is currently Secretary/Treasurer of the Seward Towers Corporation. He and his wife, Bev, have lived in their 101-year-old home in Seward for over 35 years and recently completed their first 5-year remodeling plan (25 years after starting it).
Ewart is a co-owner of Mill City Builders, LLP, a design/build residential remodeling firm that has been in business since 1994. Mill City Builders specializes in renovations and additions to older homes in Minneapolis and St. Paul. The company combines an appreciation for the existing home with thoughtful design, solid workmanship, great attention to detail and quality materials. Ewart was originally from Germany, has been a resident in the US since 1988 and has lived in Seward since 1996. Ewart's interest in Redesign stems from his wider interest in development issues, an interest in design and construction and a desire to impact the community in positive ways.
Abdul is a Program Manager at Minnesota Department of Employment and Economic Development (DEED), administering business finance programs. He has extensive experience in grant and fiscal management as well as budget development and financial reporting for businesses. Abdul is fluent in Somali and Kiswahili and understands the complications of Sharia-compliant lending. He is interested in Redesign's business development activities particularly in connection with the East African population in Redesign's service area.
Tony currently serves on several charter school boards and is a vocational consultant to another. He is the retired superintendent for the Minnesota Transitions Charter School and its founder, and formerly served as Alternative Program Coordinator for the West St. Paul School District. Tony has previously served on the boards for the Longfellow Community Council, Federal Home Loan Bank and National Cooperative Bank, among others, and was a Minneapolis City Councilmember and a founder of Seward Redesign.
D'Angelos is a seasoned commercial real estate professional with experience in real estate development and acquisition. He is currently a Vice President at THOR Construction Inc., guiding the creation of a new division responsible for development, investment and brokerage of commercial real estate. D'Angelos was a Redesign employee from 2014 through 2016 and is closely familiar with its operations and projects. Since D'Angelos left Redesign his heart and passion have remained in small business investment and the development of healthy communities.
Suzanne Weinstein

Secretary
Susanne is the founder and former owner of Coastal Seafoods. She started the business in 1981, moving to Seward in 1985. Coastal Seafoods has two successful retail stores and a wholesale business, supplying the Twin Cities and surrounding area restaurants with the best fresh and frozen fish and seafood. In 2015, Suzanne was named one of the Top Women in Business by the Minneapolis/St Paul Business Journal. Suzanne also has a background in banking, prior to starting her own business, and serves on the Seward Civic and Commerce Association's board.